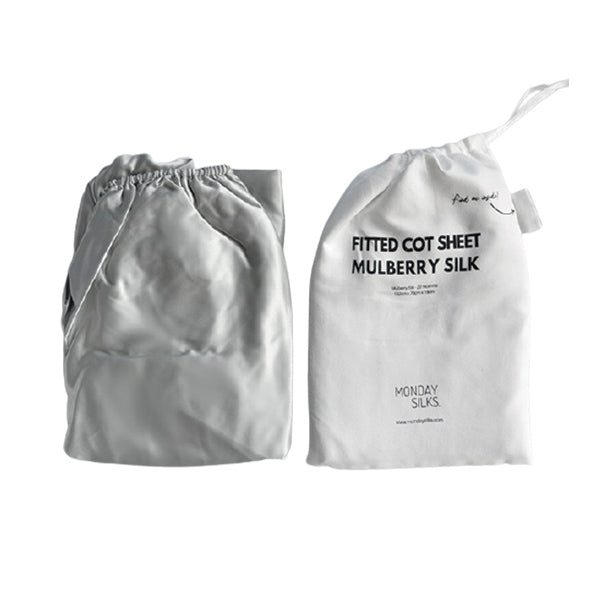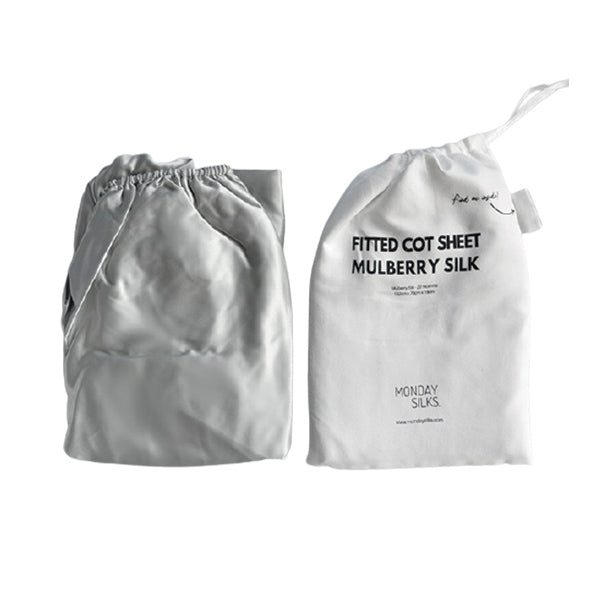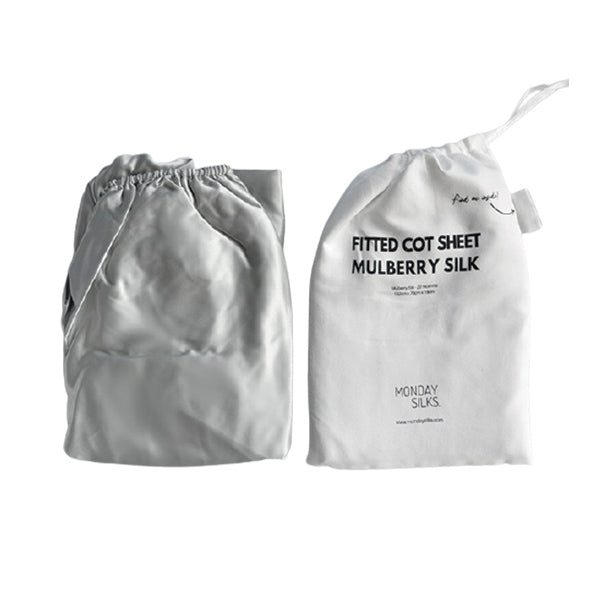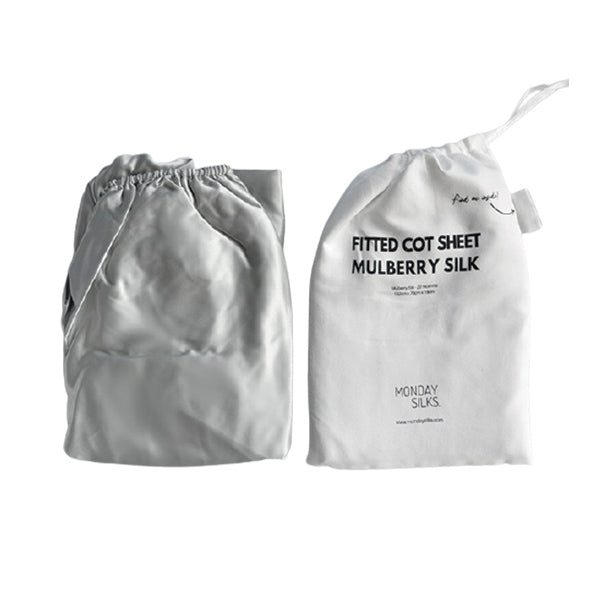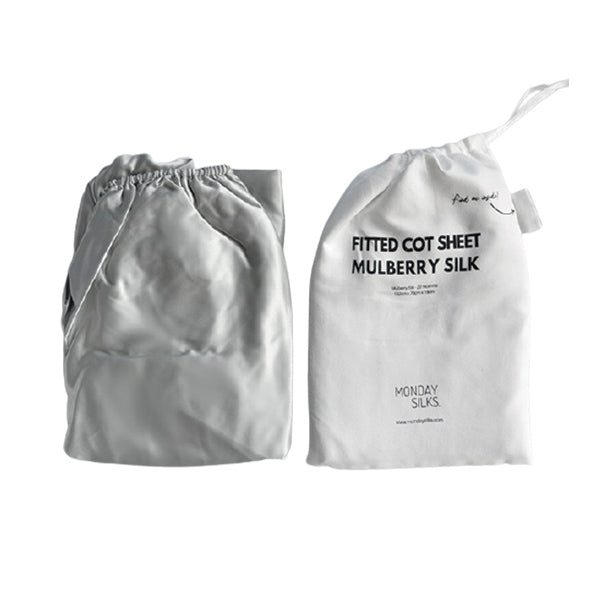 Silk Cot Sheet Fitted - Light Grey
 Silk Cot Sheet Fitted - Light Grey
The softest, sleekest and most protective silk cot sheet for babies. Mulberry silk allows your little ones head to glide smoothly across the silky surface, eliminating knotting and pulling at their hair.
With hypoallergenic properties, our silk cot sheet is also kind to your baby's skin, making it an ideal fabric for babies with eczema and other skin allergies.
Why silk for babies?

- Reduces baby bald spots & matted hair. Silk helps repair bald spots by not pulling on the new hair growth.
- Sooth's eczema and irritated skin
- Hypoallergenic - natural resistance to dust mites, fungus, mould and other allergens.

- Regulates temperature - keeps your little one cool during summer and warm in the winter.


- Breathable & Hydrating - Absorbs less moisture and natural oils.


Mulberry Silk - Highest grade 6A long stand, 22 momme. Machine washable. OEKO-TEX® Standard 100.
SIZE: Designed to fit a standard size NZ/USA cot mattress. 

Silk Cot Sheet - Fitted Bottom
Width: 70cm 
Length: 132cm
Sides/Base: 18cm
CARE GUIDE: 
- Only use a pH neutral detergent recommended for silk.
- Cold/warm hand OR gentle machine wash.
- Wash separately, inside out in delicates bag.
- Do not bleach or tumble dry. Shade dry.
- Iron inside out at a low temperature.
See our
ultimate guide to washing silk pillowcases
.
Purchased Basinet and now Cot silk sheets
Love this product.
I've recently had my first baby and he was born a cute full head of hair. I purchased the basinet silk sheet for many reasons and benefits but mainly hoping it would prevent him from getting that bald spot from friction most babies end up getting. He's now almost 4months with more hair than ever, only the slightest bald spot (caused by other surfaces) and has the most perfect skin! I've now purchased the cot silk sheet for when he soon transitions into his bigger bed. Thank you Monday silks. Next up will be a purchase for this myself. Product is a proven game changer x
Beautiful quality - worth the money
I got 2 of these cot sheets for my wee 7 month old a few weeks ago.
I wanted to try them out as my baby is a tummy sleeper and she was constantly moving her face side to side on her cotton sheets and causing major skin breakdown (chin, nose and cheeks) to the point the skin was rubbing off.
These sheets have helped so much!
With just one night of using then my baby's skin was notably improved.
They are so easy to wash and take hardly any time to dry!
Absolutely love them and wish I had known about them and purchased them sooner 😊
Beautiful product
Very impressed- beautiful quality and the shipping was insanely fast!
Silk Cot Sheet Fitted - Pink Petal
Very pretty and soft
Only been using for a week but feels very soft and smooth for the wee one.